Fintin notification module – how to implement notifications in the spirit of Low-Code/No-Code principles?
Building a positive brand image and creating an enchanting customer experience in the financial industry is often more difficult than in other market segments. After all, they are not selling physical goods, nor can they 'enchant' the user with product design. Whether financial companies achieve 'love brand' status depends, of course, mostly on the quality of the offer itself and what problems it solves, but similar emphasis should be placed on whether the customer is properly informed, feels treated like a VIP and has control over his or her relationship with the bank, insurer or lessor. Within that, an important role is played by customer service departments, presentation methods, and... notifications.
The role of personalized notifications in building a positive image of financial institutions.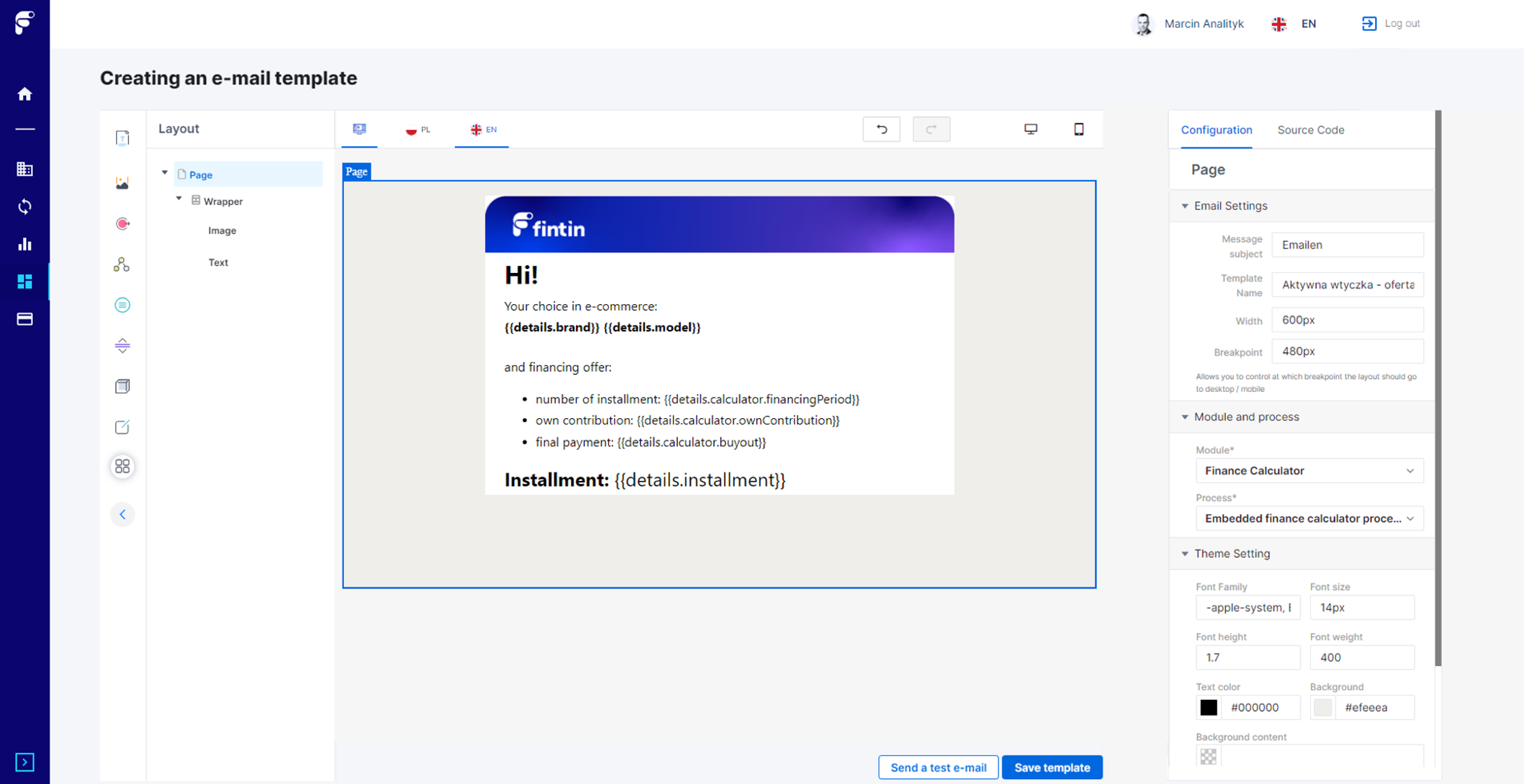 For companies dealing with finance in the broadest sense, notifications are crucial in building a positive brand image and creating a good user experience. In the leasing industry, they can inform customers about important payment deadlines, car exchanges as well as new leasing offers. They ensure that customers are aware of all important information and are more knowledgeable about the contract processes. In addition, personalised notifications about technical inspections or tire changes help to make car use safer, which is particularly important for companies with large car fleets.
In insurance, they will provide information about upcoming payment deadlines, policy updates and changes to insurance contracts or even detected risks, such as hazardous weather conditions which enable a quick response and minimises potential damage. Banks or fintechs handling corporate and private accounts should inform customers of changes to their accounts, such as receipts, withdrawals, balances, and respond quickly to service issues. This approach contributes to building lasting relationships with customers and increases their engagement with services, which contributes to business success. Another type of notification is due date notifications, which remind customers when a loan or bill is about to be paid, so they are aware of all deadlines and avoid late payment penalties.
However, we should remember that the e-mail inbox, the notification area of the operating system, or the screen of an average user's smartphone is filled with dozens - if not hundreds -of notifications from various sources - from applications, websites, widgets, or instant messengers. So, how do we get the customer to notice the financial institution's notifications, appreciate their value, and, most importantly, make use of the content they contain? To be effective and build a good user experience, notifications need to be personalised, tailored to customers' needs. They should also be consistent with the overall brand identity and tone, other marketing elements, and the company's values and mission.
How to implement a notification system without investing in extensive IT departments
To date, the use of notifications as part of building a positive customer experience has required considerable resources on the part of the financial institution. Due to the need to embed notifications in complex business processes, the use of a sophisticated notification system has so far required the involvement of IT teams or investment in expensive automation solutions. Additionally, each change required the involvement of developers or application development teams. Now, with Fintin, we can quickly implement solutions that do not require programming knowledge,and as a result, can either be handled naturally by the same employees responsible for the process in question or executed automatically - according to predefined parameters. Moreover, it will be integrated with other Fintin modules (e.g. Customer Information File) and existing systems in the company, including marketing automation tools.
For an institution's notification system to be truly effective and, above all, deliver value to both employees and customers, it should include several key elements:
An easy-to-use interface - it should be intuitive and simple to understand, without the need for technical knowledge.
Personalisation of notifications - the system should allow personalisation of notifications according to the user's needs, including a selection of the type of notification and frequency of receipt.
Quick and easy adaptation to the visual identity of the brand or product
Automation of the notification creation process - create notifications using ready-made templates and tools to automate the process.
Testability - easy testing of notifications before they are deployed, allowing a better understanding of their functionality and ensuring a quality service.
Integration with other tools - the system should allow integration with other tools and applications to automate sending notifications and better synchronisation of data.
Analytics and reporting - the system should be able to track the effectiveness of notifications, such as open rates, click-through rates, and offer analysis of user behaviour. In this way, users can better understand which notifications deliver the best results.
Data security - the system should ensure that customer data is secure, in line with the latest standards and regulations.
Notification system as an element of the Fintin platform core
Fintin is a financial platform aimed at companies in the financial industry to deliver personalised and enchanting experiences to their customers. One of the key elements of Fintin is the notifications module, built to be handled by any employee responsible for business processes - without any programming knowledge. Fintin makes it easy to manage notifications without involving the IT department. Users in the financial industry can easily create, test and deliver notifications according to their needs, without having to implement complex systems. This allows for faster and more flexible implementations, which in turn contributes to a better customer experience.
This is one element at the heart of our platform. The notifications created therein can be used in any process supported by any of the modules used. What's more, the notifications module puts all the power in the hands of the user, while arming them with tools to quickly and easily create appropriate notifications, embed branding elements, or plan automated personalisation of notifications, taking into account the diversity of customers, services, or financial products.

Among other things, the notification module allows business variables, custom footers, signatures, or graphics to be seamlessly embedded and configured in the template. The finance company employee independently and voluntarily adds new sections, text fields, or automation elements. In addition, he or she is also able to quickly check how the notification will look in a specific system or on any device and carry out tests.
In the financial industry, where competition is high, providing valuable notifications can significantly improve the customer experience. Fintin's notification module enables the delivery of personalised notifications that are tailored to the process and business in which the customer operates. Want to find out more?
Learn more about at here!