Task Manager – how does defining processes help in achieving business goals?
To provide the best service, financial institutions need to solve their customers' problems quickly and efficiently. Manually processing inquiries, documents, or applications is time-consuming and expensive. Customers expect decisions to be made efficiently, regardless of which step in the financing process they are at. The Task Manager module integrates all customer-related processes, ensuring that the business process runs efficiently, and being a central monitoring point for all tasks concerning the customer.
What is the Task Manager module
Financial case handling is often based on multiple, related, or independent tasks, and business processes that reach the institution with different channels. For example, communication with the customer can be done via email, through self-service portals, through the telephone channel, with the involvement of a consultant, to traditional mail. Customer case management also often involves employees from several separate departments within the company, including salespeople, customer service experts, analysts, or legal staff. The solution to effectively manage all cases is to implement a tool that allows you to integrate tasks, concerning a particular case object – such as a customer, asset, contract, or collateral – in one place (so both operational tasks requiring customer involvement and those concerning internal processes).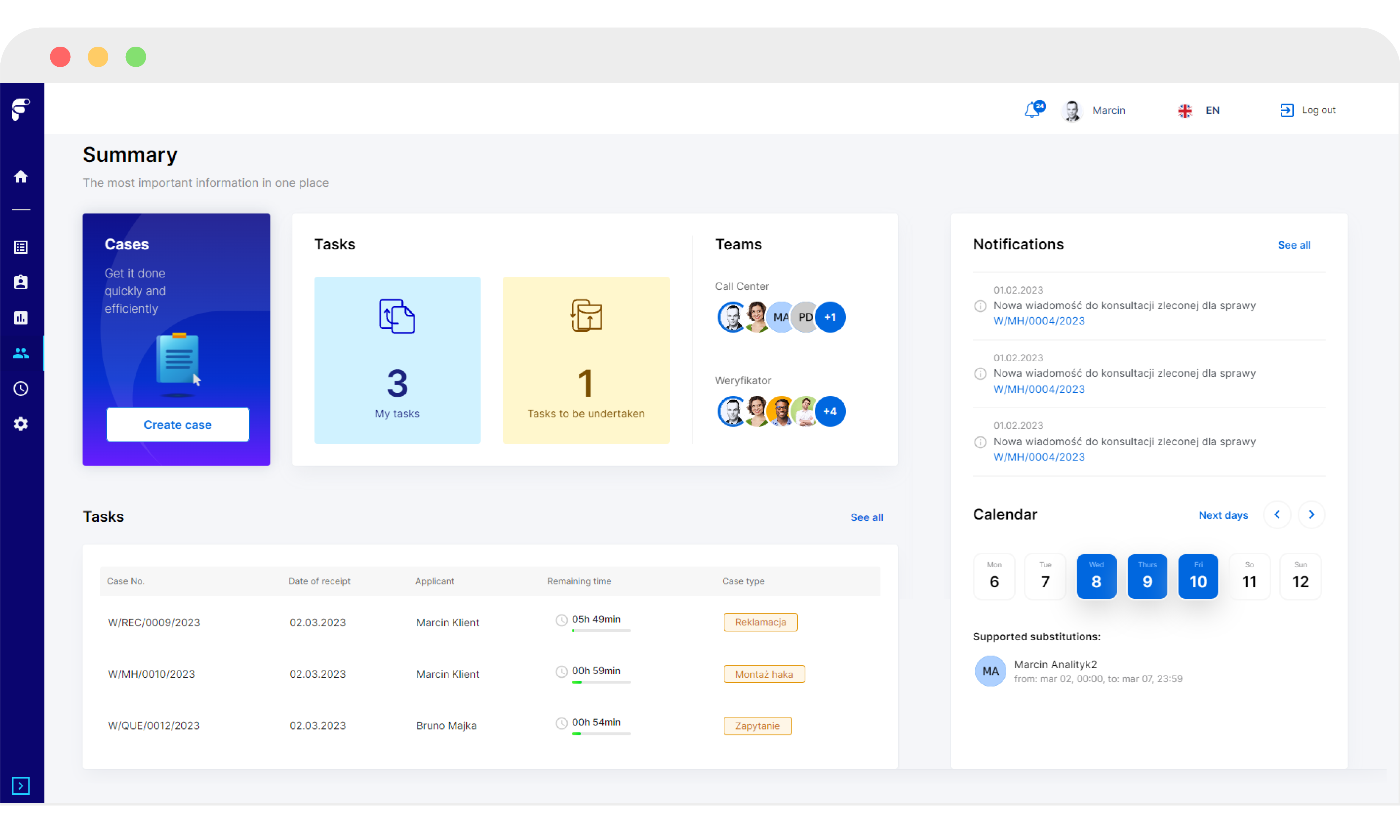 The Task Manager is one of the key modules of Fintin's innovative financial platform. Not only does it help streamline and optimize company-client interactions, but it also allows to automate and track financial processes, ensuring deadlines are met and data is accurate. Thus, it provides a centralized location for all financial tasks, enabling easier collaboration and communication between the client and the various teams and departments serving him. It eliminates inefficient activities, increases the flow of information, and facilitates the entire customer interaction path – with sales and post-sales processes.
Simple process management with Fintin's Task Manager:
The primary task of the Task Manager module is to centralize all customer-related processes in a single, easily accessible location. However, thanks to easy integration with other Fintin modules and sub-modules, it is possible to fine-tune the tool to the business processes present in the company. The task management system can be enriched with the analysis of process data using the event reporting module, allows to define the SLA level, appoint substitutes (e.g. in case of absence of the employee responsible for a given client) or precisely define roles and access rights to specific client data.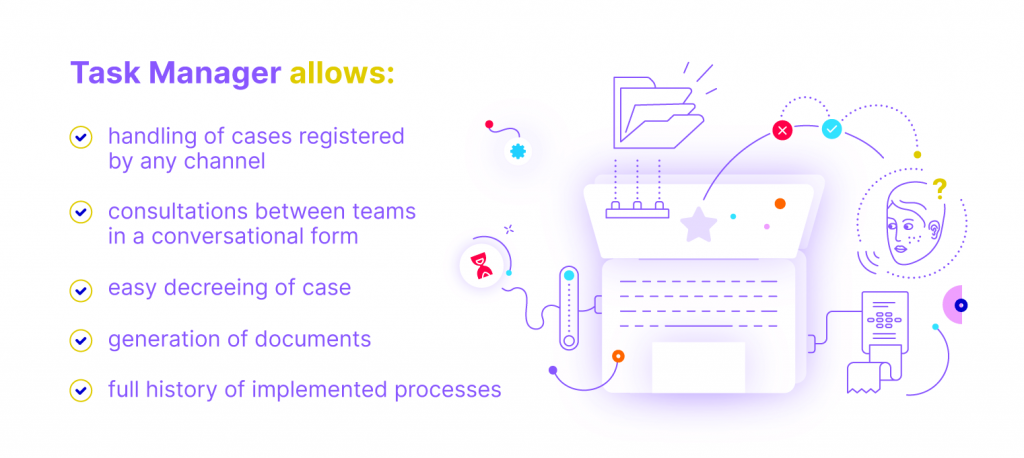 How will the Task Manager module optimize your company's processes?
The task management and customer case management system can be integrated with any, one or many, process engine or process orchestration tool (such as the popular Comunda). What's more, within a single system, it allows you to define your own processes and screens by tailoring the functionality to your specific company's needs.
It's a convenient interface for handling day-to-day operational work, allowing you to seamlessly connect with other Fintin modules and submodules as well as the organization's current IT ecosystem. For example, it can use the data available in the Customer Information File or Intelligent Documents module, which automatically recognize, classify, and process offers, applications, or invoices. Intelligent Documents also includes a document template configuration module with a letter generator. The generator allows you to build your own document templates for designated processes, and then quickly use them within the Task Manager module, according to your business needs.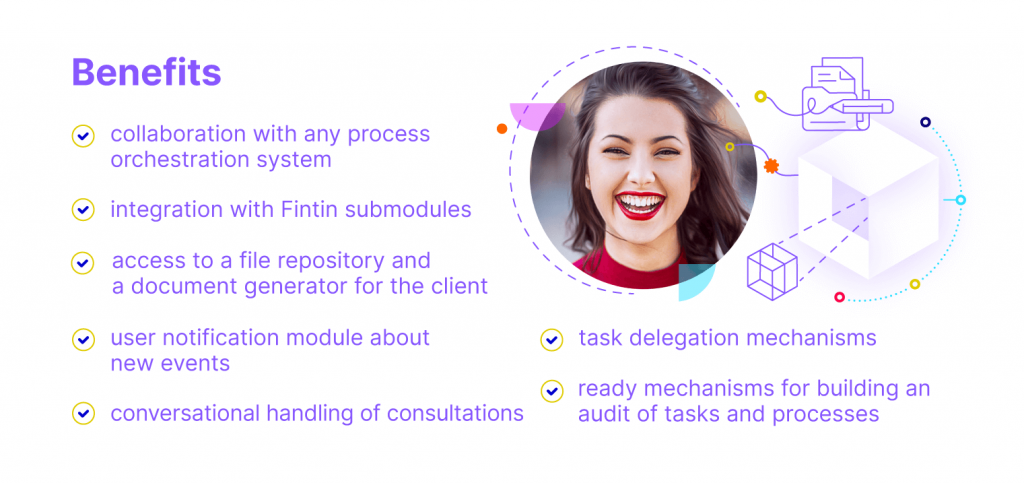 Fintin – a modular, complete set of tools to facilitate the handling of financing
The Task Manager is one of the modules of the Fintin platform – an innovative solution perfectly tailored to the needs of financial service providers, factoring and leasing companies, car dealers, brokers and their customers. It has a complete set of tools necessary to provide a comprehensive financing offering. Thanks to ready-made and flexible modules, Fintin can be used in many ways, depending on your needs. It is a flexible, secure, and privacy-compliant solution that can be deployed in the configuration of your choice.
The service can be easily customized to meet customers' business requirements by using flexible modules, including ready-made, predefined processes and integrations. They can take advantage of all available modules or choose only those that are necessary - such as an Active Plug-in, an API Center, a Digital Assistant, Task Manager, Intelligent Documents or a solution to help use banking data in accordance with open banking (PSD2) rules. You can read more about Fintin modules on the platform's website.