Agent Panel – your key to the sales growth
Fintin uses flexible modules adjusted to the unique needs of financial service providers, car dealers, brokers and clients. Each of these modules works together to provide the best possible customer service. Agent Panel guarantees omnichannel management of all these modules but can also work as a separate option that supports financial advisors in their daily work.
In this article you will find:
How does an Agent Panel work?
The Agent Panel is the module that works similarly to the CRM system (customer relationship management system), supporting financial advisors' tasks. It provides convenient access to all the functionalities of the Fintin platform and its modules to offer customers the best possible financing offer.
Agent Panel features allow experts to contact clients, verify their relationship history, prepare personalized offers, and sign contracts with them – both online or traditionally. Our module combines both traditional and online channels of interacting with clients, ensuring the best possible digital experience. It also enables agents to manage multiple communication channels by easily connecting with other Fintin modules.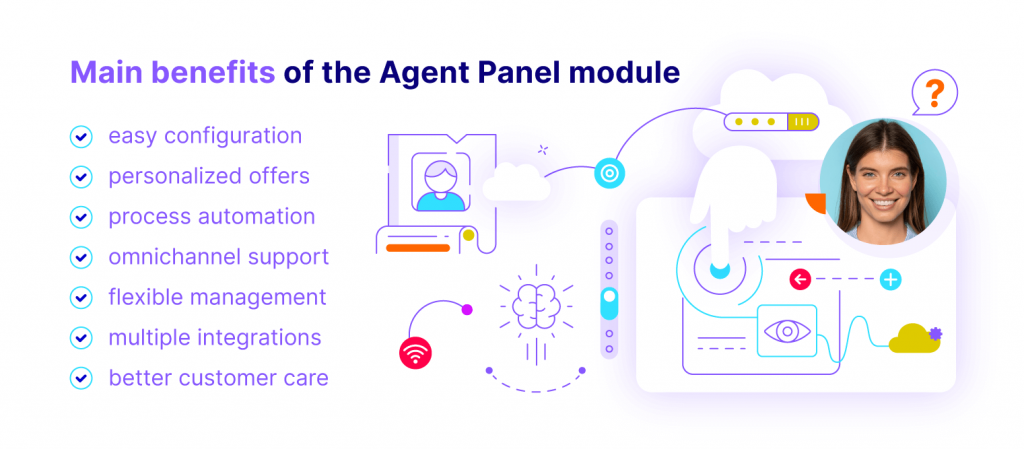 The Agent Panel lets you conveniently start conversations with customers, access the data and handle customer relationships – all from one place. This not only helps boost employees' productivity but also minimizes customer waiting time, increases their satisfaction, and improves the overall customer experience.
The Agent Panel can operate as a separate module. Still, it can also be automatically integrated with other Fintin modules, both front office (Virtual Salon, Active Plugin, Digital Assistant) and back office (Task Manager). It manages customer relations from initiation until closing the deal, making everyday work much easier. It is also an omnichannel support to all processes and operational work of financial specialists.
The main benefits of our Agent Panel
The Agent Panel module is like a command center for agents, consultants, and dealers that helps them maintain the best possible customer relationships.
Here are the main benefits of using Agent Panel:
Personalization – you can choose the parameters of the modules to adjust the tool and serve your customers more efficiently.
Individual offers – you can build tailored offers using all options available in the control panel, which improves customer experiences.
Process automation – automated processes and comprehensive analytics allow you to respond to client needs easily and in a matter of seconds.
Omnichannel support – the Agent Panel ensures continuous and unlimited access to other modules and services.
Flexible management – you can test various parameters within the system to prepare personalized offerings.
Multiple integrations – the Agent Panel works well with other Fintin modules, ensuring a seamless flow of digital user experience.
Better customer care – with this module, you can quickly offer your customers the best offer, confirming the value of your advice.
Fintin modules – flexible financing tools
Fintin is designed for leasing companies, insurers, car dealers, and companies from other sectors that need to offer personalized financing to their customers. This solution allows you to create a comprehensive financing offer with all configuration options.
With the help of flexible modules, you can easily adjust the service to customer requirements, even the most demanding ones. Our platform allows you to use all available modules or choose only the necessary ones.