How to design a financial services platform that serves customers?
Today's highly competitive financial environment requires cognitive automation to optimize processes. Companies are looking for solutions that can help achieve it, such as a well-designed financial services platform.
The financial sector has started to embrace digital transformation and cognitive automation. 87% of financial companies now view it as a significant potential for improving their business.
In today's highly competitive environment, the key is to focus on shortening the time of finalizing transactions and making sure each process is automated and easily understood by customers. That's why financial companies are looking for innovative solutions that can help.
Implementing a financial services platform is one of the ideas on how to perfect the customer experience within the financial sector. So here we are presenting what a well-designed platform needs to include and the main benefits it can offer.
Core functionalities of financial services platforms and their benefits
Customers are leaning more towards digital experiences in the online space. As technology and digital transformation continue to be present in more and more aspects of our lives, the financial sector has not been different. Therefore, implementing a financial services platform serves the customers' best interests.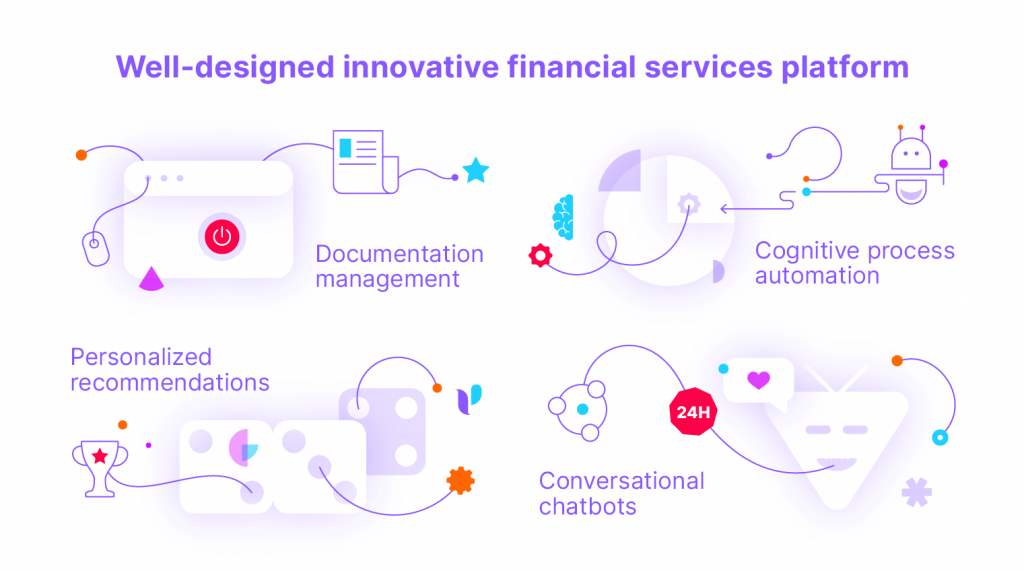 We described our platform in one of the previous posts, so we won't go into many technical details now. What we'll focus on today are both business and customers benefits that a well-designed financial services platform can bring.
Cognitive processes automation optimizes consultants' work
Employees are getting more and more tired of routine-and-mundane tasks. In fact, such tasks can kill their motivation, which as a result, impacts the customer experience. The resolution is simple – these tasks need to be streamlined.
With the use of cognitive automation, mundane tasks can be automated. Finance companies can also use the power of RPA and leverage it with niche technologies such as process orchestration and document intelligence to improve and fasten the efficiency of business workflows.
For example, using intelligent character recognition can automate a boatload of extensively manual, time-consuming tasks that occupy several work hours. Also, using finance reporting automation with AI-enabled software can help with data verification and report making. From there, AI can extract data from forms and agreements, sensitive documents, and more.
Another use of successful automation can be seen in customers' onboarding processes. Traditionally, this process is filled with paperwork and a lot of human involvement. However, streamlining the process using digital forms, automation, and Optical Character Recognition (OCR) speeds up the set-up time, reduces the human error margin, and improves the whole customer experience.
Example:
After the automation of repetitive tasks, Ernst & Young has reported a 50% - 70% cost reduction that goes into doing these manual tasks.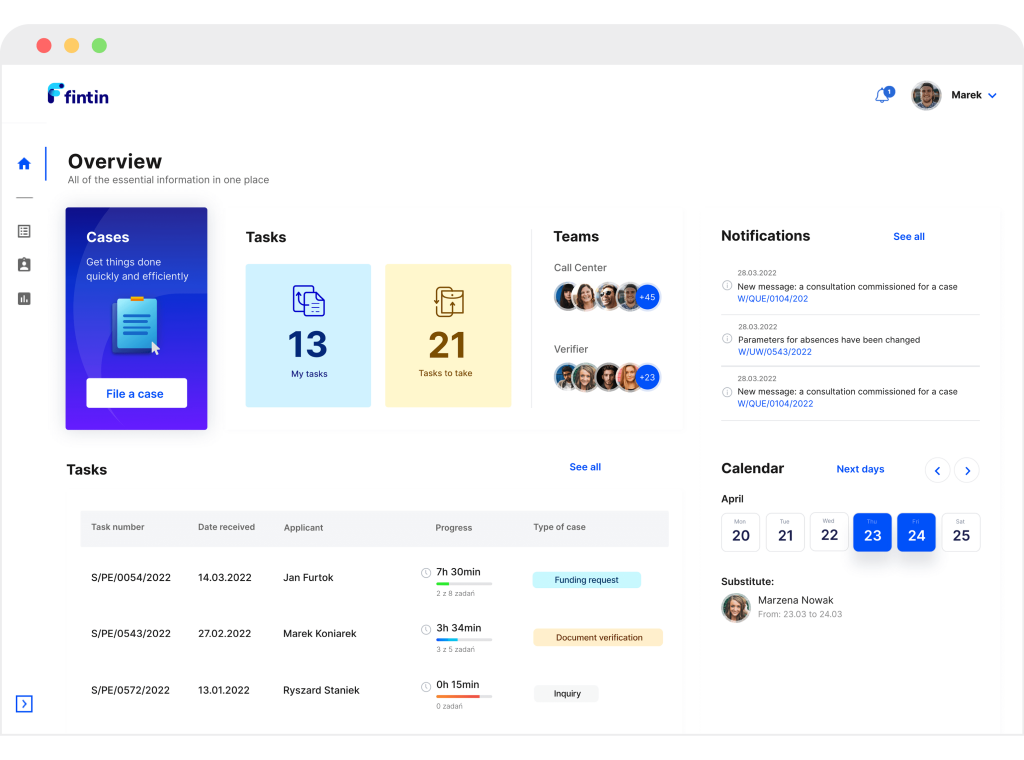 In Fintin, our financial services platform, we've implemented several ready-to-use, intelligent automations, one of which being reporting damages and making appointments for car repairs, a part of the Virtual Salon module. Using this capability helps with optimizing consultants' work and enhancing customers' experience.
Personalized recommendations support sales processes
In such uncertain times, empathy is very important for ensuring the right customer experience. Personalization is an important aspect that can drive customer engagement, making them more loyal and helping with their retention.
AI can provide customer recommendations based on historical data that help them make decisions quicker. AI-powered apps also offer personalized banking experiences such as income tracking, financial advice, detecting spending habits and recurring expenses, or optimizing plans for finances management and financial tips.
Also, using AI in financial services offers efficient customer experience-boosting tools to check their balance, schedule payments, or look up account activity. The use of automation of credit scoring helps optimize the whole sales process. Consequently, lenders can distinguish between high-risk applicants and credit-worthy candidates who don't have an adequate credit history.
Example:
Credit Union of Texas increased the personalization of their messaging to website visitors. The results – a 300% increase in home equity and mortgage applications, a 20% increase in auto loan leads, and a 15 million growth in total submitted loan leads within the first month.
Conversational chatbots enhance customer care
Customer service and support involve high operating costs and extensive manual work. As a result, the departments see high caller wait time – often resulting in frustrated people airing their grief on social media. Conversational chatbots can help to increase production capacity while relieving humans of dull and repetitive work.
Basic chatbots can provide support anywhere in the world. They are available 365 days a year and can answer a question 24/7, solving common issues quickly. For example, they can reset a password, manage transactions, or find the nearest open office in the blink of a customer's eye. But conversational chatbots are even more helpful.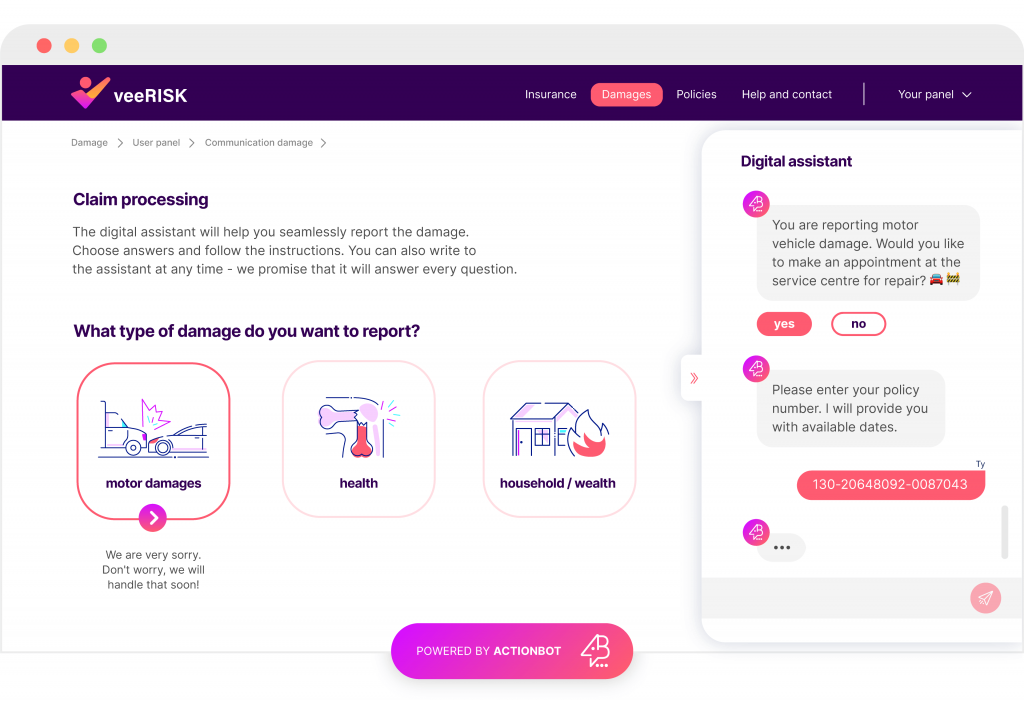 Conversational chatbots (such as Actionbot, which powers our Digital Assistant) can reduce call-handling time or minimize the human errors and duplication caused during the manual input of information. They are also excellent in reducing consultants' work, taking more applications to manage, and letting agents focus on more complex queries. Finally, conversational chatbots can identify factors for improving service quality and customer satisfaction based on available data.
Example:
HDFC bank uses EVA, a virtual assistant that has successfully handled more than 2.7 million customer queries within six months. The bot's accuracy in resolving queries is over 85%.
Documentation management speeds up its processing
Finally, gathering the whole documentation in one place with easy but secure access is helpful, both for customers and consultants. But to make use of such a well-managed space, automation needs to be involved.
Companies often heavily rely on spreadsheets in addition to their main order management platform. But, of course, human work slows processes and comes with high risks of human error in managing orders and implementing new strategies. All this can be solved with the help of intelligent automation.
Intelligent automation that involves computer vision and natural language processing can help analyze all text-based documents, significantly speeding up documentation processing (as in Fintin's Intelligent Docs module). NLP also helps with smart document search as well, assisting in finding required information from a wide pool of scanned documents.
To sum up, cognitive automation helps extract any key information from large text volumes, reduces manual work, and enables gaining valuable insights. Within the financial sector, we are talking about legal and regulatory documents and some less sensitive documents, such as online comments or survey responses.
Example:
JP Morgan Chase's COIN software uses NLP to help the legal team scan and review high volumes of legal documents. As a result, COIN saves 360,000 hours per year for the bank's legal team.
Innovative financial services platforms are just at their beginning
The future for cognitive automation in financial services platforms is bright. AI-powered automation holds the promise of optimizing the most crucial business processes. Focusing on digital transformation, putting effort into modernization, or implementing AI and machine learning can help financial companies achieve their end-to-end, omnichannel process automation.